Study Skills: Verbal Communication Made Easy
Please choose a format above.
Whether you're delivering a speech to the UN general council or giving a toast at your cousin's wedding, there's one thing for certain: you're probably boring the hell out of everyone. Also, you're using verbal communication.
In fact, verbal communication has made the AARP's "Top Ten preferred methods of communication" list for nearly twenty years running. Last year it beat out grunting, crotch grabbing, going "EEEEEEEEEE" in a really high pitched tone, tilting your head back and to one side to indicate to the person sitting across the table from you to check out the person behind you, and semaphore.
But do any of us really know how to communicate verbally? Wait, we do? All of us? One of the first social skills we learn, usually by the age of 18 months? Well then why did Alfred Higgins make this short?
Your guess is as good as ours! It's a crazy, mixed-up educational gumbo that includes ten year old Siskel & Ebert impersonators, rip offs of those silhouettes from The Electric Company, and children who have been given access to a functioning television production studio for some reason. Wait, maybe that last one does actually explain it...
Join Mike, Kevin, and Bill to learn all about how to go EEEEEEEEEE in a really high pitched tone Verbal Communication!
Digital HD Video file formats
Legacy devices (74.97 MB)
All digital products you purchase from RiffTrax.com are DRM-free, can be played across a large variety of devices, and are yours to keep ... forever! Even if you have a hard drive meltdown, you can always log back into the site and re-download all of your previous purchases.
For our Download and Stream products, you can stream the product to your computer or to your TV via Chromecast, or download to a device that can play the MP4 file format. For more information on our video formats, please see this KB article.
Just the Jokes are simply MP3 files which are DRM free and can be enjoyed on any device that can play this common audio format.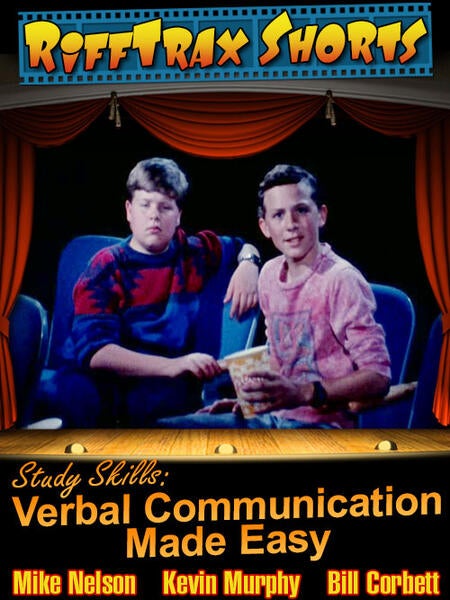 Riffed By