Sherlock Holmes and the Deadly Necklace
Please choose a format above.
You might be forgiven for thinking that RiffTrax is intent on taking a huge dump on the reputation of Victorian England's greatest fictional detective, but in the unlikely event that you ever get around to watching the Will Ferrell movie Holmes & Watson, you'll realize that train has already sailed.
No, what we have here, as well as the first major example of transatlantic movie mockery, is the very British Sir Christopher Lee, taking time off from leading starship invasions to play Sherlock Holmes in a very German movie concerning the theft of Cleopatra's Necklace and—well, a lot of stuff, quite frankly. People die, things explode, cars crash. You won't understand it (even though it's been dubbed into English), but you definitely won't be bored.
So join the legendary Bridget Nelson and the fantastically available Matthew J Elliott, as they guide you through the hornet's nest of intrigue (and hornets) that is Sherlock Holmes and the Deadly Necklace!
Written by:
Matthew J. Elliott
Digital Video file formats
Legacy devices (336.75 MB)
Burnable DVD Image (3.98 GB)
Digital HD Video file formats
Legacy devices (336.75 MB)
Burnable DVD Image (3.98 GB)
All digital products you purchase from RiffTrax.com are DRM-free, can be played across a large variety of devices, and are yours to keep ... forever! Even if you have a hard drive meltdown, you can always log back into the site and re-download all of your previous purchases.
For our Download and Stream products, you can stream the product to your computer or to your TV via Chromecast, or download to a device that can play the MP4 file format. For more information on our video formats, please see this KB article.
Just the Jokes are simply MP3 files which are DRM free and can be enjoyed on any device that can play this common audio format.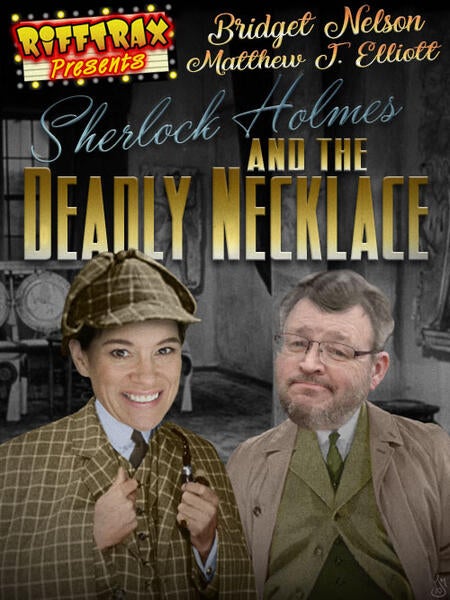 Riffed By