Seven Little Ducks
Please choose a format above.
When police inspector Launchpad McQuack receives a phone call that Huey, Dewey and Louie have gone missing, his initial inclination was to suspect the Beagle Boys - a suspicion that his neighbor Donald Duck was only too happy to go along with.  
But Donald seemed a little too concerned about keeping Launchpad away from his newly planted garden bed, instead plying the straight-laced cop with a dish he called "Diablo Pato."  And that's when the first severed head turned up in a box on Launchpad's doorstep, pulling him down into a twisted web of intrigue, with the case growing more depraved and fiendish with each passing hour.
Sorry about that, that would be the plot of Se7en Little Ducks.  Seven Little Ducks on the other hand is a good-natured short about a brace of ducks.  You might assume that there would be seven ducks, but you would be a moron for expecting the good people at Coronet Films to do something as logical as naming their educational short in accordance with how many ducks are actually in said short.
The ducks are owned by Carol, who is played by a Gamorrean Guard.  Carol has mastered basic duck-care skills such as feeding them gravel and strangling them.  The ducks detest their cruel owner, and led by the hideous Father Duck, whose skin condition makes Two Face look like a Noxzema model, plan a coup.  I'm sorry, I'm also being informed that that should be "Coop", and is not a bloody takeover, but rather the enclosure within which the ducks reside.
Obviously we can't get our details right about the content of the short, so just tune in to Seven Little Ducks along with Mike, Kevin and Bill and see for yourself.  Quack. 
Digital Video file formats
High Quality (MPEG-2) (269.4 MB)
All digital products you purchase from RiffTrax.com are DRM-free, can be played across a large variety of devices, and are yours to keep ... forever! Even if you have a hard drive meltdown, you can always log back into the site and re-download all of your previous purchases.
For our Download and Stream products, you can stream the product to your computer or to your TV via Chromecast, or download to a device that can play the MP4 file format. For more information on our video formats, please see this KB article.
Just the Jokes are simply MP3 files which are DRM free and can be enjoyed on any device that can play this common audio format.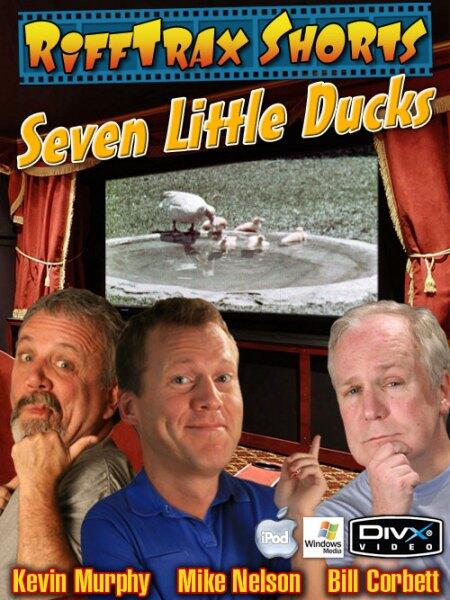 Riffed By