Santa and the Fairy Snow Queen
Please choose a format above.
This beloved and baffling gem from our Santa Claus Conquers the Martians live show is now available as a studio short!
When thinking of classic Christmas specials, it's not long before Snoopy comes to mind… dog? What dog? We're talking about the much more better known Snoopy the Brownie, of course, who works for Santa and helps keep his menagerie of terrifying living toys in line while he naps off his most recent egg nog bender. Really, we've seen our share of drunk Santas over the years, and this one's as red-nosed and bleary as they come. But Snoopy and Santa are far from the most iconic characters featured here. We're talking, naturally, about the Candy Lion! Yes, the Candy Lion, the lion who can eat candy. Oh the concept still isn't clear enough yet? Well fortunately his catchphrase, which he loves to blurt out at random times, will clear that right up. We won't spoil the surprise, but-- "I CAN EAT CANDY!" --oh come on Candy Lion, who let you in here??
Join Mike, Kevin and Bill for a heaping helping of holiday cheer wi-- "I CAN EAT CANDY"-- Santa and the Fairy Snow Queen!
Digital Video file formats
Legacy devices (64.95 MB)
All digital products you purchase from RiffTrax.com are DRM-free, can be played across a large variety of devices, and are yours to keep ... forever! Even if you have a hard drive meltdown, you can always log back into the site and re-download all of your previous purchases.
For our Download and Stream products, you can stream the product to your computer or to your TV via Chromecast, or download to a device that can play the MP4 file format. For more information on our video formats, please see this KB article.
Just the Jokes are simply MP3 files which are DRM free and can be enjoyed on any device that can play this common audio format.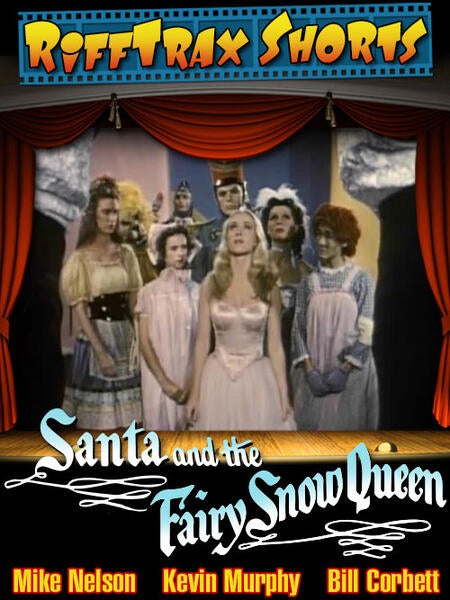 Riffed By