Safety Woman: In Danger Out of Doors
Please choose a format above.
Safety Woman's back, and she's more out of doors than ever! Yes, everyone's favorite crossing guard turned cosmic superhero Guardiana, seen first in the beloved RiffTrax short Safety: Harm Hides at Home, is taking it outside, Dalton from Road House style. But don't worry, she hasn't changed a bit. Still freelance architecting, still keeping kids safe with the pie plate and baton some aliens gave her, and still visiting her "favorite Aunt Margaret" -- deal with it, lesser Aunts!
Whether in boats, driveways, or crosswalks, dumb kids everywhere are getting themselves into trouble and needing saving, Guardiana style. She always shows up in the nick of time, er, well, after the nick of time, when the accident has already happened, then rewinds time and takes care of business. Teaching kids an important lesson: it doesn't really matter what you do, a foxy lady in a shiny suit will show up and fix it! So go nuts!
Join Mike, Kevin, and Bill as they don their official Guardiana headbands and sunglasses for Safety Woman: In Danger Out of Doors!
Digital Video file formats
mp4 for mobile devices (119.99 MB)
mp4 for Tablets and TVs (166.89 MB)
MPEG-2 for DVDs (605.36 MB)
All digital products you purchase from RiffTrax.com are DRM-free, can be played across a large variety of devices, and are yours to keep ... forever! Even if you have a hard drive meltdown, you can always log back into the site and re-download all of your previous purchases.
For our Download and Stream products, you can stream the product to your computer or to your TV via Chromecast, or download to a device that can play the MP4 file format. For more information on our video formats, please see this KB article.
Just the Jokes are simply MP3 files which are DRM free and can be enjoyed on any device that can play this common audio format.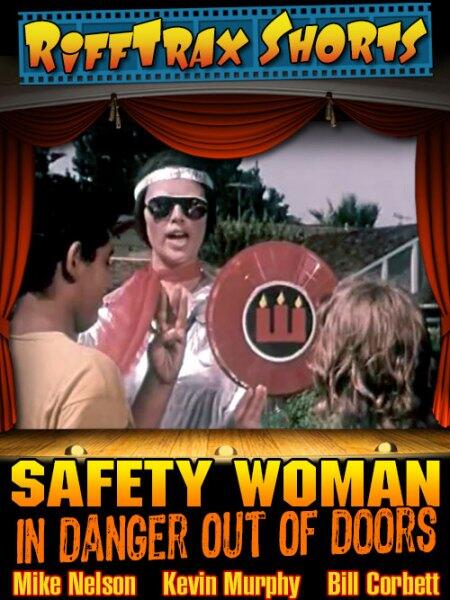 Riffed By