RiffTrax Live: Amityville - The Evil Escapes
Something you should know:
Please choose a format above.
There's still evil up there at the old Amityville house.
A group of priests gathers to quell the demon that has long plagued this lovely five-bed, four-bath Dutch Colonial full of old-world charm and lots of curb appeal. BUT - the Evil escapes! Which should have been made obvious by the movie's title. And how does it escape? Like all evil does: by possessing a tacky floor lamp, getting sold at a garage sale and shipped to Los Angeles, where most evil household décor eventually finds a home. 
Soon the demonic floor lamp begins its reign of terror in the home of an innocent family, killing pets and home repairmen, forcing children to use power tools in unsafe ways, and possessing the soul of the youngest sister Jessica, who immediately begins to act like a total jerk.
It's up to the young priest Father Kibbler to save the family and confront the evil lamp, face-to-bulb, before more people die. Okay, more people DO die, but can Father Kibbler finally put an end to it? And are tomatoes fruits or vegetables? A completely unrelated workplace safety short, It's Your Accident, remains oddly focused on this question! Join Bill, Mike and Kevin for the perfect Halloween treat—a night with Rifftrax Live and Amityville 4: The Evil Escapes!
Written by: Mike Nelson, Kevin Murphy, Bill Corbett, Conor Lastowka, Sean Thomason
Contributing writers: Jason Miller and Zach Shatzer
Digital Video file formats
Legacy devices (421.29 MB)
Burnable DVD Image (3.9 GB)
Digital HD Video file formats
Legacy devices (421.29 MB)
Burnable 480p DVD Image (3.9 GB)
All digital products you purchase from RiffTrax.com are DRM-free, can be played across a large variety of devices, and are yours to keep ... forever! Even if you have a hard drive meltdown, you can always log back into the site and re-download all of your previous purchases.
For our Download and Stream products, you can stream the product to your computer or to your TV via Chromecast, or download to a device that can play the MP4 file format. For more information on our video formats, please see this KB article.
Just the Jokes are simply MP3 files which are DRM free and can be enjoyed on any device that can play this common audio format.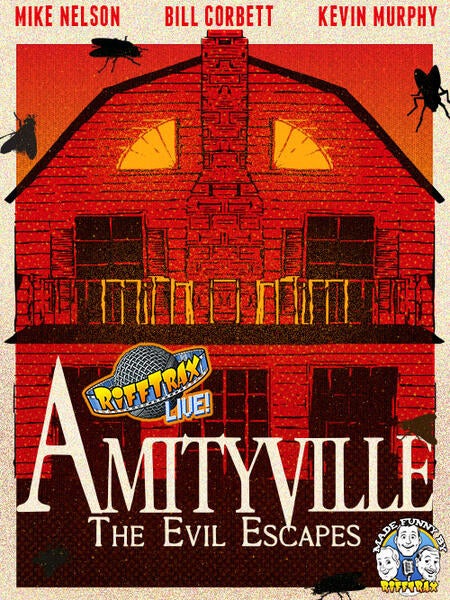 Animal harm
Graphic violence
Riffed By