Reading From Now On
Please choose a format above.
Oh, you like reading, do you? You like reading just the way it is now, you say? Well tough, because here's how reading is gonna be FROM NOW ON. From now on, reading will only be done upside-down, see? And someone's gonna drip flat Pepsi into your nose while you read, you get me? And we better not catch you reading outside of a derelict tire factory, because derelict tire factories are officially the ONLY places that reading will be tolerated from now on, okay, wise guy? And no more books, from now on you're only gonna read the labels on your grandpa's medicine, and if you complain, you'll lose privileges to read anything except the letter "Q", capische?
Those rules have nothing to do with our new short, but we do believe in them and will enforce them aggressively. Reading From Now On is the tale of a young, comically illiterate boy who lives in the shadow of an older brother who arrogantly shoves his book-learnin' in everyone's face. Will our hero crumble under the sibling pressure, learn to read, or fake learning to read by memorizing the names of a few pictures and shouting them on demand? Who knows, but it's probably the last one!
Join Mike, Kevin, and Bill for the classic revenge story, Reading From Now On!    
Digital Video file formats
High Quality (MPEG-2) (260.63 MB)
Windows Media (100.42 MB)
mp4 (mobile devices) (99.55 MB)
High-resolution mp4 (iPad, etc.) (126.64 MB)
All digital products you purchase from RiffTrax.com are DRM-free, can be played across a large variety of devices, and are yours to keep ... forever! Even if you have a hard drive meltdown, you can always log back into the site and re-download all of your previous purchases.
For our Download and Stream products, you can stream the product to your computer or to your TV via Chromecast, or download to a device that can play the MP4 file format. For more information on our video formats, please see this KB article.
Just the Jokes are simply MP3 files which are DRM free and can be enjoyed on any device that can play this common audio format.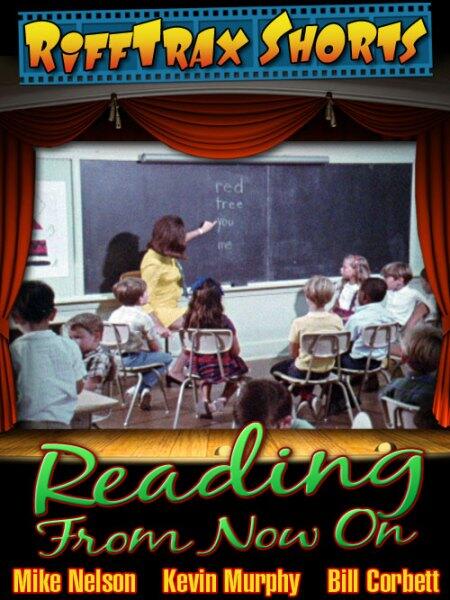 Riffed By