MST3K: Radar Secret Service
Get this MST3K Episode!
Please choose a format above.
Radar! Controller of air-traffic, locater of transponders, and... enemy of organized crime?
Yes, the FBI is using radar to bring down the mob. I know what you're thinking, but no one expected tax evasion scandals to work either. While you'd imagine a 50's gangster to be as concerned with radar as their Beats By Dre, it's apparently quite the water cooler conversation at the ole Money Laundering Depot. Radar guns, radar trucks - the only thing we're missing is Radar Love!
After the bureau's third or fourth use of radar on a task better fit for Ike the intern, just remember that this is a film which proudly displays the headline "Radar Agent Locates Missing Murder Gun."
Join Mike, Servo and Crow as they broadcast signals for Radar Secret Service!
Digital Video file formats
Legacy devices (384.44 MB)
Burnable DVD Image (4.34 GB)
All files you purchase from RiffTrax.com are DRM-free, can be played across a large variety of devices, and are yours to keep forever! Even if you have a hard drive meltdown, you can always log back into the site and re-download all of your previous purchases.
For our Download and Stream products, you can stream the product to your computer or to your TV via Chromecast, or download to a device that can play the MP4 file format. For more information on our video formats, please see this KB article.
Just the Jokes are simply MP3 files which are DRM free and can be enjoyed on any device that can play this common audio format.
Join us in the comments, won't us?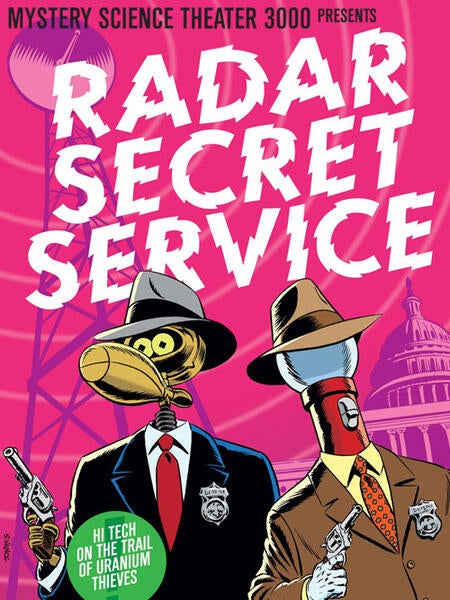 Release Date
August 7, 2017
In collection