MST3K: Laserblast
Get this MST3K Episode!
Please choose a format above.
After a lifetime of constant abuse--both emotional and physical--by those around him, young Billy Duncan stumbles across an abandoned alien weapon that provides him with the ultimate method of revenge. But the weapon's power source begins to mutate Billy's mind and body, and soon no one can stop the deadly creature's terrifying rampage.
In this, the final Comedy Central episode of Mystery Science Theater 3000, Mike Nelson, Tom Servo and Crow T. Robot celebrate the end of seven hysterical seasons by watching one of the worst films ever made . . . Laserblast!
Digital Video file formats
Legacy devices (372.84 MB)
All files you purchase from RiffTrax.com are DRM-free, can be played across a large variety of devices, and are yours to keep forever! Even if you have a hard drive meltdown, you can always log back into the site and re-download all of your previous purchases.
For our Download and Stream products, you can stream the product to your computer or to your TV via Chromecast, or download to a device that can play the MP4 file format. For more information on our video formats, please see this KB article.
Just the Jokes are simply MP3 files which are DRM free and can be enjoyed on any device that can play this common audio format.
Join us in the comments, won't us?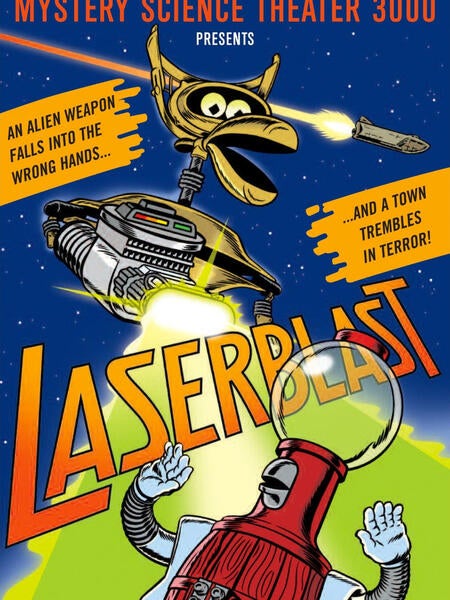 Release Date
December 28, 2015
Genre
In collection