MST3K: Jungle Goddess
Get this MST3K Episode!
Please choose a format above.
It's a bird! It's a plane - Okay, it's a plane. But it's crashed! This is a job for the guy who played lumpy TV SUPERMAN!
A wealthy heiress has been lost in the African jungle. Whoever finds her dead or alive will receive a fabulous cash prize! That's all the motivation needed to spring the chivalrous Mike Patton (not that one) and Bob Simpson (some other guy) into action.
Turns out: she's totally fine. Better than fine. The locals have crowned her the titular Jungle Goddess. Sure, she spends all her time lounging around, but hey, she did fall from the sky.
All this plus a short featuring Bela Lugosi before he would take Ed Wood's calls, a living saxophone, and so very many deals to be made!
Join Joel, Servo, and Crow as they tremble before the Jungle Goddess!
Digital Video file formats
Legacy devices (398.28 MB)
Burnable DVD Image (3.92 GB)
All files you purchase from RiffTrax.com are DRM-free, can be played across a large variety of devices, and are yours to keep forever! Even if you have a hard drive meltdown, you can always log back into the site and re-download all of your previous purchases.
For our Download and Stream products, you can stream the product to your computer or to your TV via Chromecast, or download to a device that can play the MP4 file format. For more information on our video formats, please see this KB article.
Just the Jokes are simply MP3 files which are DRM free and can be enjoyed on any device that can play this common audio format.
Join us in the comments, won't us?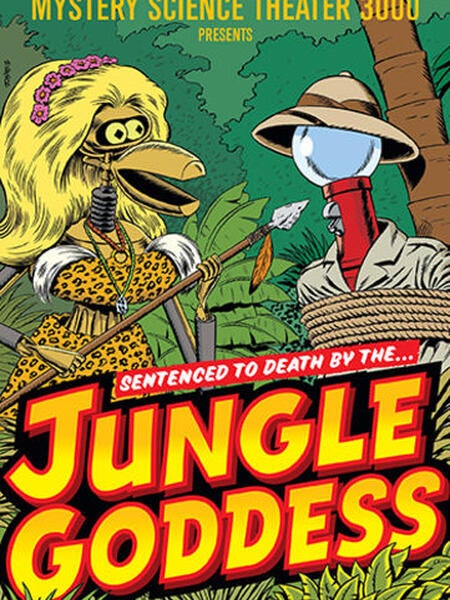 Release Date
October 17, 2016
Genre
In collection