MST3K: Fugitive Alien
Get this MST3K Episode!
Please choose a format above.
Be-blonde-wigged soldier Ken (Ken? KEN?!) refuses to commit adorable-child murder. This doesn't sit well with his comrade, Ken.They struggle. Ken shoots Ken. Which Ken kills the other Ken? Tune in and see! ¡Olé!
Now officially a Fugitive Alien, Ken escapes in a spaceship that is NOT an X-Wing, only to be abducted by another ship that is certainly NOT the Millennium Falcon. Beer-swilling Captain Joe of the Bacchus 3 takes pity on Ken and forces him into indentured servitude.
There's star-crossed love and murder plots! Action, revenge, blonde wigs by the hundreds! Someone tries to kill someone with a forklift. Who? Doesn't matter! ¡Olé!
Join Joel, Ken, Servo, Crow, and Ken as they tune into this week's episode of Fugitive Alien! ¡Olé!
Digital Video file formats
Legacy devices (393.74 MB)
Burnable DVD File (4.01 GB)
All files you purchase from RiffTrax.com are DRM-free, can be played across a large variety of devices, and are yours to keep forever! Even if you have a hard drive meltdown, you can always log back into the site and re-download all of your previous purchases.
For our Download and Stream products, you can stream the product to your computer or to your TV via Chromecast, or download to a device that can play the MP4 file format. For more information on our video formats, please see this KB article.
Just the Jokes are simply MP3 files which are DRM free and can be enjoyed on any device that can play this common audio format.
Join us in the comments, won't us?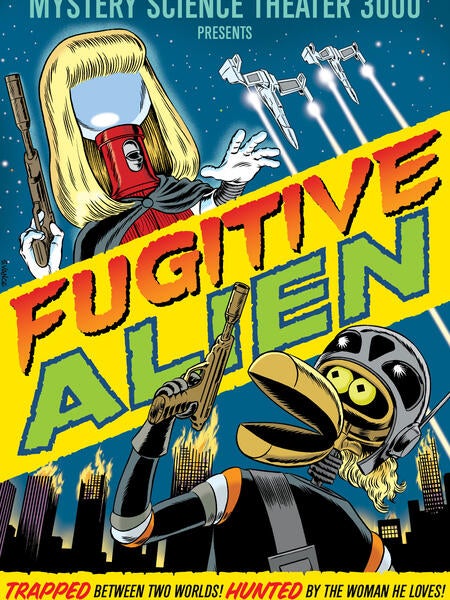 Release Date
December 12, 2016
Genre
In collection