MST3K: Bride of the Monster
Get this MST3K Episode!
Please choose a format above.
Ed Wood and movie riffing go together like peaches and cream. Well, maybe not quite that. It's more like cream and corn: starchy, yet satisfying!
In all seriousness, this movie is a real diamond in the rough as far as Mr. Wood is concerned. The plot is actually somewhat comprehensible, but when you're putting it side-by-side with Plan 9 From Outer Space, that isn't saying much. But honestly, who needs plot here? You have once respected actor Bela Lugosi flailing around with a stolen rubber octopus, Tor Johnson chewing the scenery (when he's not physically running into it), and more stock footage than you can shake a licensing fee at!
Join Joel, Crow and Servo as they check the registry at Target for The Bride of The Monster!
Digital Video file formats
Legacy devices (375.69 MB)
Burnable DVD Image (4.34 GB)
All files you purchase from RiffTrax.com are DRM-free, can be played across a large variety of devices, and are yours to keep forever! Even if you have a hard drive meltdown, you can always log back into the site and re-download all of your previous purchases.
For our Download and Stream products, you can stream the product to your computer or to your TV via Chromecast, or download to a device that can play the MP4 file format. For more information on our video formats, please see this KB article.
Just the Jokes are simply MP3 files which are DRM free and can be enjoyed on any device that can play this common audio format.
Join us in the comments, won't us?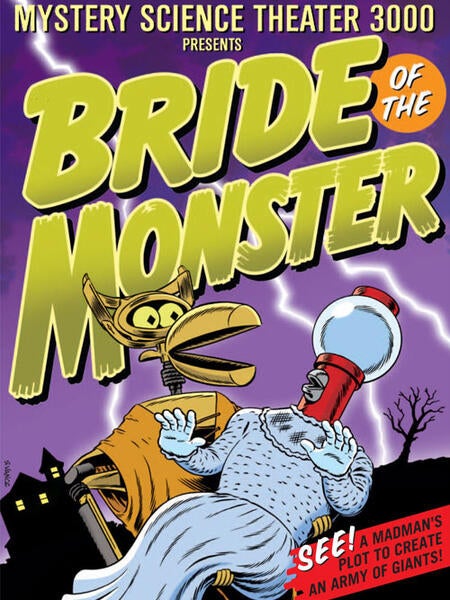 Release Date
April 8, 2019
Genre
In collection