Magical Field Trip to the Denver Mint
Please choose a format above.
The title Magical Field Trip to the Denver Mint is a bit redundant, since obviously ANY field trip to the Denver Mint is going to be magical.
What makes this particular journey to a penny factory so special? Well, naturally, it all starts with a vacuum cleaner!
The vacuum cleaner in question is wielded by Rosie O'Flanagan, a whimsical supernatural being whose main power is… being extremely Irish. When three youngsters are bored in their school library, Rosie and her vacuum appear to whisk them away to, you guessed it, the Denver Mint! Does this make more sense when you watch the short? Not really!
The kids get to explore the ugliest, dullest rooms at the industrial plant, all while Rosie does her magical thing of… well, being Irish. Rosie O'Flanagan should really team up with the Grocery Witch from Magical Disappearing Money and use their combined powers to bother people about small change.
Join Mike, Kevin, Bill, Rosie O'Flanagan and a bucket of nickels for Magical Field Trip to the Denver Mint!
Written by Mike Nelson, Bill Corbett, Conor Lastowka, and Sean Thomason
Digital HD Video file formats
Legacy devices (45.73 MB)
High (TV) 480p (207.24 MB)
HD Medium 720p (206.3 MB)
All digital products you purchase from RiffTrax.com are DRM-free, can be played across a large variety of devices, and are yours to keep ... forever! Even if you have a hard drive meltdown, you can always log back into the site and re-download all of your previous purchases.
For our Download and Stream products, you can stream the product to your computer or to your TV via Chromecast, or download to a device that can play the MP4 file format. For more information on our video formats, please see this KB article.
Just the Jokes are simply MP3 files which are DRM free and can be enjoyed on any device that can play this common audio format.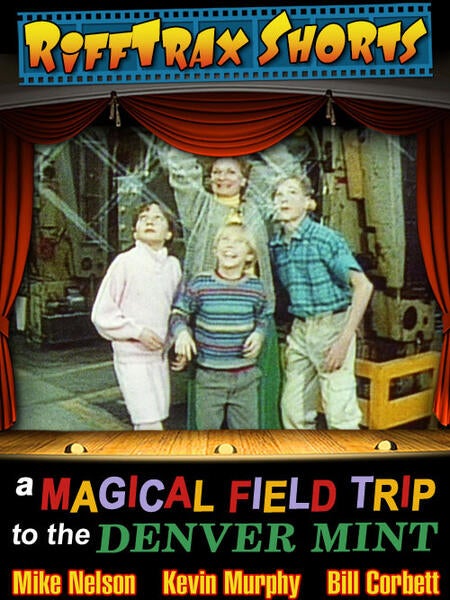 Riffed By