It's a Cat's Life
Please choose a format above.
What could be better than a box full of kittens? Puppies. Anyway, we digress. 
There are so many kittens in It's A Cat's Life, it's practically a Russian novel of feline-ity. From the fine folks at Frith, who brought you Mother Mack Trains Her Seven Puppies (which would have been much more fun) and/or The Littlest Puppy Grows Up (which would have been such a better choice for riffing), this short from the 1940s is not about puppies.
Nevertheless, Bridget and Mary Jo manage to soldier through this primer on the small domesticated carnivore that has the temerity not to be a dog.  
Written by: Bridget Nelson and Mary Jo Pehl 
Digital HD Video file formats
Legacy devices (43.71 MB)
High (TV) 480p (213.71 MB)
HD Medium 720p (213.81 MB)
All digital products you purchase from RiffTrax.com are DRM-free, can be played across a large variety of devices, and are yours to keep ... forever! Even if you have a hard drive meltdown, you can always log back into the site and re-download all of your previous purchases.
For our Download and Stream products, you can stream the product to your computer or to your TV via Chromecast, or download to a device that can play the MP4 file format. For more information on our video formats, please see this KB article.
Just the Jokes are simply MP3 files which are DRM free and can be enjoyed on any device that can play this common audio format.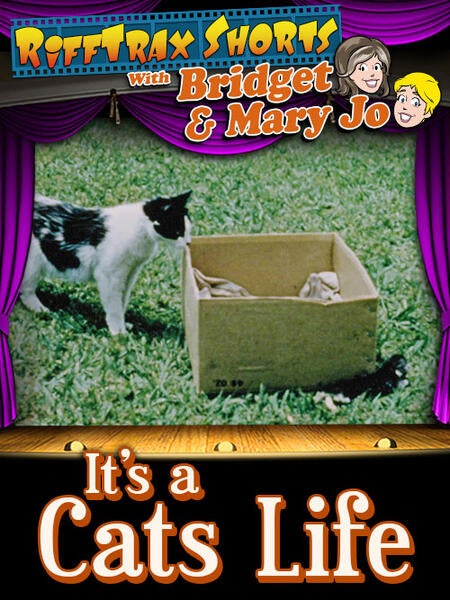 Riffed By