How to Have a Money-making Garage Sale
Something you should know:
Rated TV-EPDLHOJ for excessive Phyllis Diller Laughing at Her Own Jokes
Please choose a format above.
If you can suspend disbelief enough to think that Phyllis Diller ever had a garage sale, then you'll appreciate the practical tips and corny jokes in this how-to video from 1987. 
It also features Brandon Scott in his Golden Globe-nominated role of "The Nitpicker,'' which forever changed how hagglers were portrayed on screen. Eagle-eyed fans of second-hand merchandise instructional sales videos will also spot the incomparable work of Russ Vogel, best known for, according to the sole notation on his IMDB page, "his work on How to Have a Money-making Garage Sale." Join Bridget and Mary Jo for this straight-to-video video - which you'll probably be able to find at a garage sale near you!  
Written by: Mary Jo Pehl and Matthew J. Elliott
 
Digital Video file formats
All digital products you purchase from RiffTrax.com are DRM-free, can be played across a large variety of devices, and are yours to keep ... forever! Even if you have a hard drive meltdown, you can always log back into the site and re-download all of your previous purchases.
For our Download and Stream products, you can stream the product to your computer or to your TV via Chromecast, or download to a device that can play the MP4 file format. For more information on our video formats, please see this KB article.
Just the Jokes are simply MP3 files which are DRM free and can be enjoyed on any device that can play this common audio format.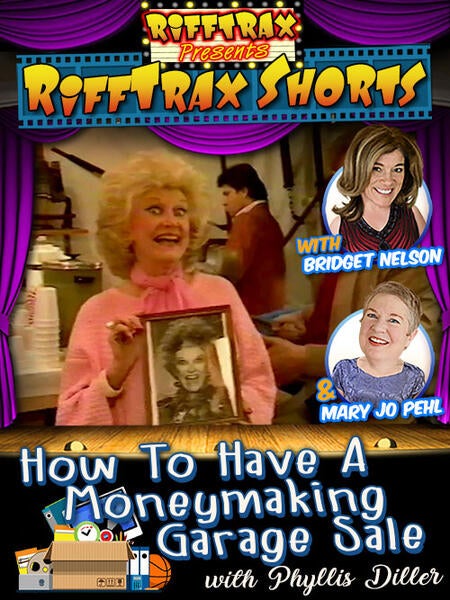 Riffed By