Halloween Safety 2: Even Safer
Please choose a format above.
Just when you thought it was safe to be safe again…
Halloween is really about three things: candy, costumes, and complete paranoia. Halloween Safety 2 brings a strong focus to the latter.
It's a Coronet short from the 80s... yes, somehow Coronet was still making films in the 80s, we don't understand it either. A poorly animated pumpkin lectures a bunch of kids with Halloween safety tips, like "Give all the unwrapped candy you get to your brother" and "Don't incant the name of a Great Old One backward lest your mortal mind be unable to comprehend the ghastly magnitude of the horrors you witness."
Break all your candy bars in half to check for explosives, then join Mike, Kevin and Bill for Halloween Safety 2: Even Safer!
Written by: Mike Nelson, Bill Corbett, Conor Lastowka, and Sean Thomason
Digital HD Video file formats
Legacy devices (52.24 MB)
High (TV) 480p (255.37 MB)
HD Medium 720p (255.52 MB)
All digital products you purchase from RiffTrax.com are DRM-free, can be played across a large variety of devices, and are yours to keep ... forever! Even if you have a hard drive meltdown, you can always log back into the site and re-download all of your previous purchases.
For our Download and Stream products, you can stream the product to your computer or to your TV via Chromecast, or download to a device that can play the MP4 file format. For more information on our video formats, please see this KB article.
Just the Jokes are simply MP3 files which are DRM free and can be enjoyed on any device that can play this common audio format.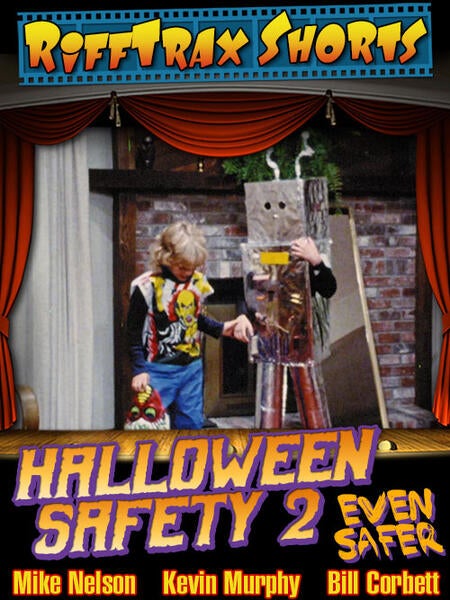 Riffed By