First Aid for Children - I Can Do it Myself
Please choose a format above.
First Aid! The bandages, the hydrogen peroxide, the tiny little scissors. So much fun, everybody loves it! But unfortunately, First Aid has always only been for adults… until now! That's right kids, it's your turn at last: First Aid for Children!
Whether riding a bike, shooting some hoops, or just attempting to use paper, kids can find all kinds of neat ways to injure themselves. And the world is full of dirt and grime that's desperate to get rubbed into those wounds. Especially when this short was made, the 1970s, the grimiest decade in modern history. First Aid for Children will show you how to take care of those cuts, or get help from a kindly stranger (just temporarily ignore all the other shorts telling you not to talk to strangers).
Horror buffs will be pleased to know the short doesn't pull any punches when it comes to gore, there's a papercut that looks like a real ER situation. Join Mike, Kevin and Bill for another fun entry in the "kids getting hurt" genre, it's First Aid for Children!
Written by: Mike Nelson, Conor Lastowka, and Sean Thomason
Digital HD Video file formats
Legacy devices (42.24 MB)
All digital products you purchase from RiffTrax.com are DRM-free, can be played across a large variety of devices, and are yours to keep ... forever! Even if you have a hard drive meltdown, you can always log back into the site and re-download all of your previous purchases.
For our Download and Stream products, you can stream the product to your computer or to your TV via Chromecast, or download to a device that can play the MP4 file format. For more information on our video formats, please see this KB article.
Just the Jokes are simply MP3 files which are DRM free and can be enjoyed on any device that can play this common audio format.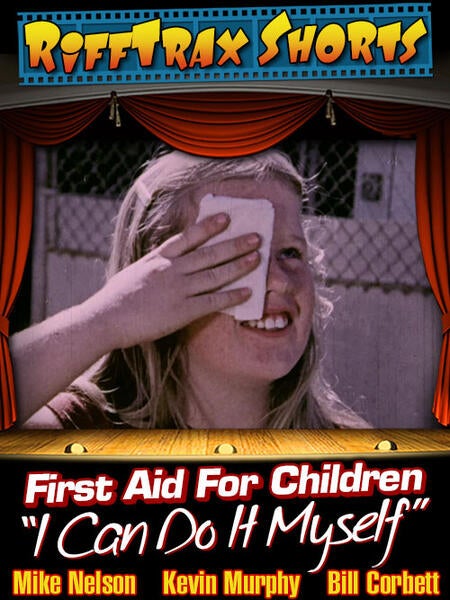 Riffed By