Families: Earning and Spending
Please choose a format above.
Anybody who strapped in for the thrill ride that was Families: Food and Eating probably assumes they got the whole story. Three families from three different countries prepared food, and they ate it. Knuckle-whitening stuff, no doubt, but could there possibly be more? Hold on to your culturally-appropriate hat, because THERE SURE IS!! That food didn't just come from nowhere, sonny, and Families: Earning and Spending is here to fill you in!
All the stereotypical families are back. The smug, stoned San Franciscans, the efficient, unsmiling Japanese, and the hard-working, thank-God-they-can't-see-the-spoiled-San-Francisco-family Mexicans! It's a full-on prequel...or is it a series reboot? Hm. Well, the characters are the same, so, leaning prequel...but there's definitely some retcon happening, though, so probably reboot? Eh, who knows. We'll just have to let the rabid, Hitler-invoking commenters over at the "Families Shorts Series Wiki" fight it out!
Join Mike, Kevin and Bill and spend a little well-earned time with Families: Earning and Spending!
Digital Video file formats
High Quality (MPEG-2) (307.64 MB)
Zune (Windows Media) (91.85 MB)
Commentary (mp3) (11.06 MB)
Source audio (mp3) (14.32 MB)
All digital products you purchase from RiffTrax.com are DRM-free, can be played across a large variety of devices, and are yours to keep ... forever! Even if you have a hard drive meltdown, you can always log back into the site and re-download all of your previous purchases.
For our Download and Stream products, you can stream the product to your computer or to your TV via Chromecast, or download to a device that can play the MP4 file format. For more information on our video formats, please see this KB article.
Just the Jokes are simply MP3 files which are DRM free and can be enjoyed on any device that can play this common audio format.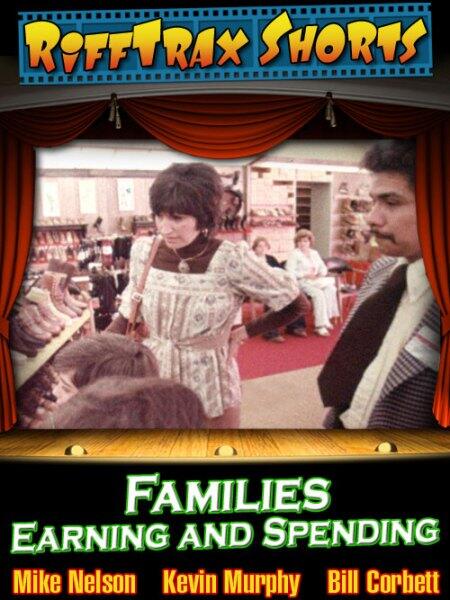 Riffed By