Fad Diet Circus
Please choose a format above.
In preparation for working on Fad Diet Circus, we here at RiffTrax decided to try out a few of the more popular fad diets.  We started with the "Macho Man Randy Savage Diet", which allows only foods that you can "Snap into!"  Then there was the "Soup-Made-From-the-Cheez-It-Crumbs-At-The-Bottom-Of-The-Box Diet" (use your own tears for broth).  And of course the "Villain from the Muppet Movie Diet", which consists entirely of Kermit the Frog's legs (this one is known to true dietary insiders as the "Doc Hopper").  Finally we came to the "Penelope Cruz Diet", permitting only food items you find while going through Penelope Cruz's garbage.  Thanks to this rigorous regimen, RiffTrax HQ has been temporarily relocated to the hospital, with one of us working remotely from prison (FORGIVE ME PENELOPE!!!!)
You might expect a film called Fad Diet Circus to cover several different diets, or at least something, you know, "circus-y".  You silly fool!  The filmmakers instead focus on the low-carb Atkins Diet.  And by "focus on" we mean "aggressively attack": one gets the feeling this hit piece was commissioned by Betty Crocker and the "time to make the donuts" guy.  They even wrote an anti-Atkins torch song (really, we're not kidding) and dressed the kindly old doctor up in a heinous plaid coat (there's no way that coat was a voluntary choice) just to discredit him.
Mike, Kevin, and Bill are willing to try any diet plan as long as the words "pork fat smoothie" are involved.
Digital Video file formats
High Quality (MPEG-2) (297.47 MB)
Commentary (mp3) (7.04 MB)
Source audio (mp3) (9.07 MB)
All digital products you purchase from RiffTrax.com are DRM-free, can be played across a large variety of devices, and are yours to keep ... forever! Even if you have a hard drive meltdown, you can always log back into the site and re-download all of your previous purchases.
For our Download and Stream products, you can stream the product to your computer or to your TV via Chromecast, or download to a device that can play the MP4 file format. For more information on our video formats, please see this KB article.
Just the Jokes are simply MP3 files which are DRM free and can be enjoyed on any device that can play this common audio format.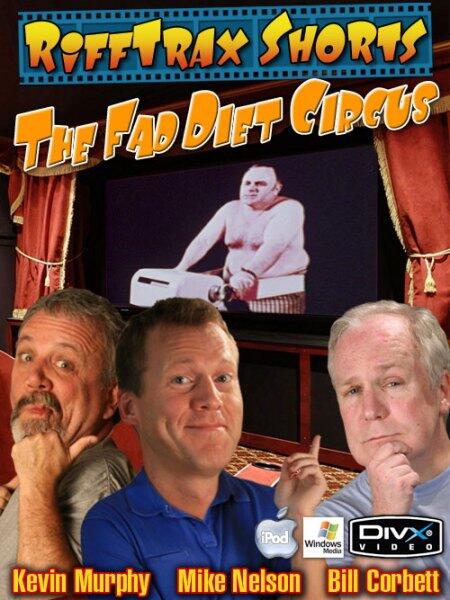 Riffed By