Duck and Cover
Please choose a format above.
At last, the classic nuclear safety short that put the "fun" in "fundamentally unhelpful advice in the case of a nuclear attack" is available as a riff!
Nothing says "atomic death is nigh" like a cartoon turtle named Bert singing a playful song. Did the fallout transform a human man into a musical reptile? If that's how it works, that's not so bad, maybe we should embrace the bomb and enjoy our new lives as carefree animated turtles? Alas, these questions go unanswered as the film moves on to focus on real human children and real human adults in real human situations. There's nothing funny about protecting yourself from a city-incinerating blast with… a folded newspaper on your head. Yeah. That's pretty much it. That's the best they could come up with. Good luck, kids!
It's time to crawl under your desk with Mike, Kevin, and Bill, then stick your head between your legs and kiss your Duck and Cover goodbye!
Digital Video file formats
Legacy devices (37.52 MB)
All digital products you purchase from RiffTrax.com are DRM-free, can be played across a large variety of devices, and are yours to keep ... forever! Even if you have a hard drive meltdown, you can always log back into the site and re-download all of your previous purchases.
For our Download and Stream products, you can stream the product to your computer or to your TV via Chromecast, or download to a device that can play the MP4 file format. For more information on our video formats, please see this KB article.
Just the Jokes are simply MP3 files which are DRM free and can be enjoyed on any device that can play this common audio format.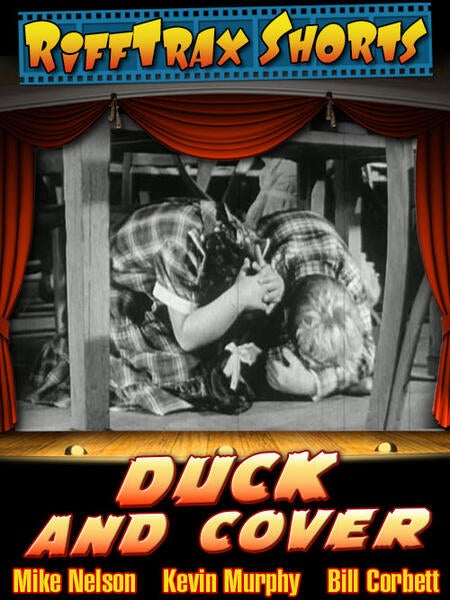 Riffed By