December Holidays
Please choose a format above.
Ah, the famous December Holidays. We wait for them every year. After the exciting fall festivities of Toyotathon and Geicoween, we settle into the colder months with the warm glow of Happy Honda Days, and of course, the Lexus December to Remember. Unbelievably, none of these holidays are discussed in this short.
Instead, December Holidays brings focus to Chanukah, the Mexican religious festival Las Posadas, and some other holiday that happens in December… can't remember the name, there's some kind of tree, and socks over a fireplace or something? Anyway, all the information you need is here, along with 80s families showing you how they celebrate in 80s holiday fashion.
Cozy up with a mug of hot December chocolate and enjoy December Holidays with December Mike, December Bill, and December Kevin!
Written by Mike Nelson, Conor Lastowka, and Sean Thomason
Digital HD Video file formats
Legacy devices (47.05 MB)
All digital products you purchase from RiffTrax.com are DRM-free, can be played across a large variety of devices, and are yours to keep ... forever! Even if you have a hard drive meltdown, you can always log back into the site and re-download all of your previous purchases.
For our Download and Stream products, you can stream the product to your computer or to your TV via Chromecast, or download to a device that can play the MP4 file format. For more information on our video formats, please see this KB article.
Just the Jokes are simply MP3 files which are DRM free and can be enjoyed on any device that can play this common audio format.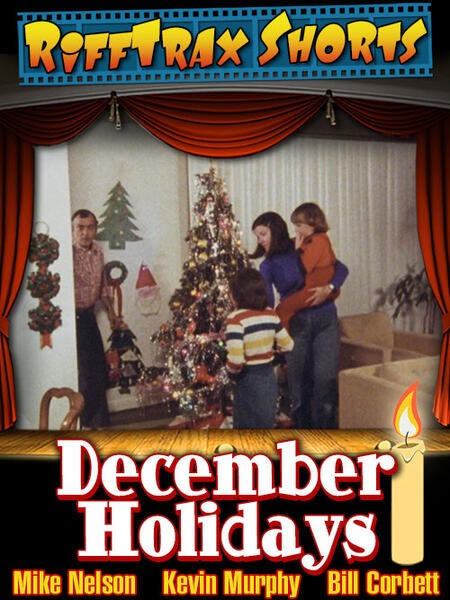 Riffed By