Color it Clean
Please choose a format above.
Sure, short films about janitors and toilets are great. Everyone agrees on that. Literally everyone. But if there's one thing most of these films lack, it's a meditative, philosophical approach to the subject matter. "Tell me something I DON'T know," you're probably saying to yourself, and that's fair. But we have good news, friends, we've found a janitorial short that has all that, and then some: Color it Clean! Existential questions and urinal scrubbing, together at last!
Fans of RiffTrax favorite Setting Up a Room will feel right at home here, as the filmmakers take the same Zen-like, obsessive level of attention that film paid to a school classroom and apply it instead to school bathrooms. And it's all narrated by real live janitors, providing a glimpse inside the minds of the sponge-wielding warriors who fight the good fight against scum, grime, and the derision of entitled students every day. If you ever looked at your school custodian and thought "I hope I don't wind up with that job, seems depressing," this short will...well, this short won't really change your mind about that. But it will make you think, laugh, and maybe, just maybe, inspire you to get up and clean the toilet, yeah even that area back behind it that's hard to reach so we all kind of try to pretend it isn't there, yeah, you know what we're talking about.
So grab a mop and a copy of Jean-Paul Sartre's Being and Nothingness and join Mike, Bill, and Kevin for a journey into the porcelain and tile oblivion of Color it Clean!
Digital Video file formats
Legacy devices (77.98 MB)
All digital products you purchase from RiffTrax.com are DRM-free, can be played across a large variety of devices, and are yours to keep ... forever! Even if you have a hard drive meltdown, you can always log back into the site and re-download all of your previous purchases.
For our Download and Stream products, you can stream the product to your computer or to your TV via Chromecast, or download to a device that can play the MP4 file format. For more information on our video formats, please see this KB article.
Just the Jokes are simply MP3 files which are DRM free and can be enjoyed on any device that can play this common audio format.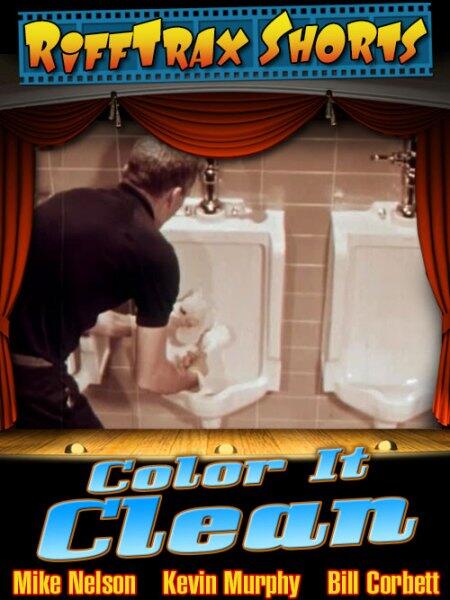 Riffed By