Christmas Cracker
Please choose a format above.
Christmas Cracker may be the most pointless short we've ever done, and we've done a short about gluing pine cones to cardboard tubes.
Made by the Film Board of Canada, possibly on a dare, it weaves together three unrelated "stories," in the same way that unintelligible graffiti scrawled on a bathroom stall, possibly in feces, is a "story."
There's a Jingle Bells music video that would be unimpressive even if you learned an ape had animated it. Then some toys come to life and bump into each other. And just when you think you couldn't possibly take anymore Christmas cheer, there's a short where a poorly animated guy goes into poorly animated space to get a poorly animated star for his Christmas tree, which is shockingly a lush, detailed animation, worthy of a Flemish master. We're just kidding - it's poorly animated as well.
Then, just because they're sickos, the Canadians tie the whole thing together with a clown. There's also a bit of trivia here that is one of the most shocking things in the history of RiffTrax, but you'll have to watch the short all the way til the end to learn it. It would ruin the surprise to tell you before you'd experienced the magnificent lump of coal that is Christmas Cracker.
Digital HD Video file formats
High (TV) 480p (175.9 MB)
HD Medium 720p (175.72 MB)
HD High 1080p (1003.2 MB)
All digital products you purchase from RiffTrax.com are DRM-free, can be played across a large variety of devices, and are yours to keep ... forever! Even if you have a hard drive meltdown, you can always log back into the site and re-download all of your previous purchases.
For our Download and Stream products, you can stream the product to your computer or to your TV via Chromecast, or download to a device that can play the MP4 file format. For more information on our video formats, please see this KB article.
Just the Jokes are simply MP3 files which are DRM free and can be enjoyed on any device that can play this common audio format.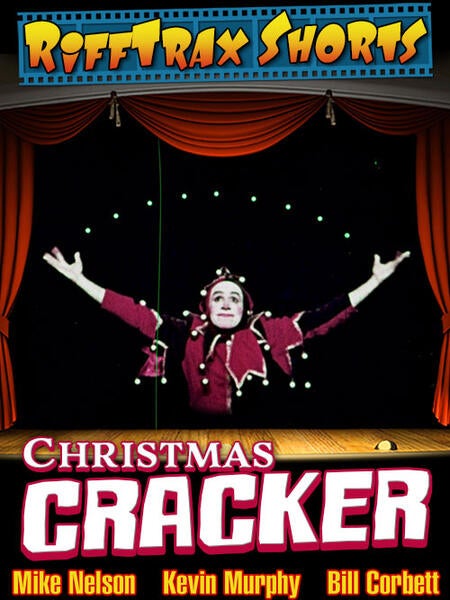 Riffed By