Best of RiffTrax: Villains
Please choose a format above.
Over the years here at RiffTrax we've had the pleasure of riffing some of cinema's finest villains: Darth Vader. Saruman. The cubbies from Setting Up A Room. But for our first ever Best of RiffTrax, we wanted to focus on some of the more overlooked villains in our catalogue. Though they may not be as iconic as some of the bigger name villains, these nefarious scoundrels' deeds are no less evil, their laughter is no less insane, and their ponytails are no less greasy.
First up is Terry Silver, billionaire toxic waste dumper and local karate champ humiliator from The Karate Kid Part III. After that, there can be only one...second villain in our villain special, and it is the delightful The Kurgan from Highlander. And to close things out, the biggest, baddest, most non-specific villain of them all: the trees/the wind/plants from The Happening!
For Best of RiffTrax: Villains, we've pulled some of our favorite moments from riffs of the past, along with host segments by Mike, Kevin, and Bill. If you like what you see and have a suggestion for a future theme, be sure to let us know!
**Note: riffed content is the same as the MP3s**
 
Digital Video file formats
Legacy devices (94.35 MB)
All digital products you purchase from RiffTrax.com are DRM-free, can be played across a large variety of devices, and are yours to keep ... forever! Even if you have a hard drive meltdown, you can always log back into the site and re-download all of your previous purchases.
For our Download and Stream products, you can stream the product to your computer or to your TV via Chromecast, or download to a device that can play the MP4 file format. For more information on our video formats, please see this KB article.
Just the Jokes are simply MP3 files which are DRM free and can be enjoyed on any device that can play this common audio format.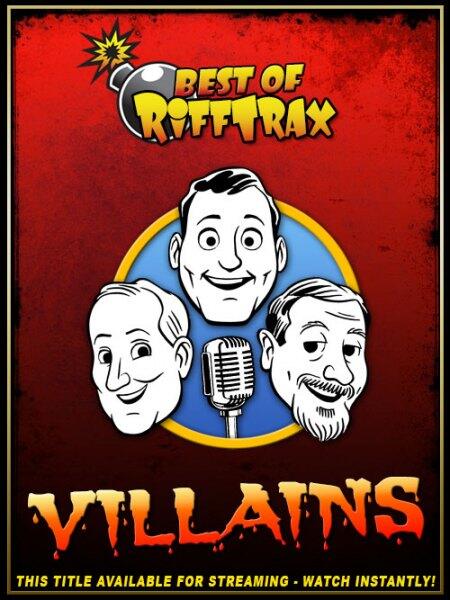 Riffed By