Beginning Responsibility: Taking Care Of Your Own Things
Please choose a format above.
Every now and then you meet a child who forever changes your perception of how stupid a child can be.
There's your second cousin's boy, Leon, who spends summer afternoons black-widow-huntin' in the woodpile. Or little cross-eyed Margie, with her affinity for drinking liters of pond water. And of course Stephen, the kid who insists Notes from Underground is Dostoevsky's finest literary accomplishment when it's clearly one of his mid-level works. I mean, honestly, Stephen, grow up.
But all of these little morons are blown away by the force of Reggie, star of Beginning Responsibility: Taking Care of Your Own Things. Reggie sleepwalks through life. He's perpetually confused and overwhelmed by his bedroom full of toys, which are all in such sorry shape Goodwill employees would spit in your face if you attempted to donate them. Since his parents have given up on Reggie long ago, it's up to this deranged menagerie of busted junk to come to life and teach him threatening lessons. Yes, it's Toy Story on acid! But not the fun kind of acid, more like battery acid that spills out of an old remote control dog toy you haven't picked up in twelve years.
Mike, Kevin and Bill try to keep little Reggie from swallowing their keys while they watch Beginning Responsibility: Taking Care of Your Own Things!
Digital Video file formats
Legacy devices (45.23 MB)
Commentary (mp3) (7.73 MB)
Source audio (mp3) (9.97 MB)
All digital products you purchase from RiffTrax.com are DRM-free, can be played across a large variety of devices, and are yours to keep ... forever! Even if you have a hard drive meltdown, you can always log back into the site and re-download all of your previous purchases.
For our Download and Stream products, you can stream the product to your computer or to your TV via Chromecast, or download to a device that can play the MP4 file format. For more information on our video formats, please see this KB article.
Just the Jokes are simply MP3 files which are DRM free and can be enjoyed on any device that can play this common audio format.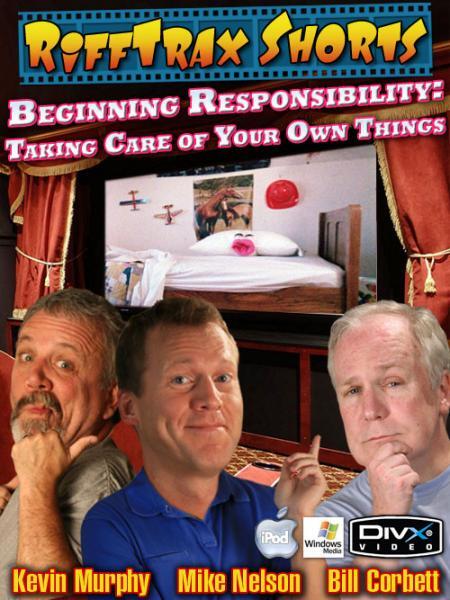 Riffed By