Beginning Responsibility: Learning to Follow Instructions
Please choose a format above.
The "Beginning Responsibility" series from Coronet Films has already given us legendary characters like Mr. Bungle and Reggie the Dork's Big-Lipped Talking Pillow. This next installment ups the ante by featuring a teacher who we're pretty sure is 90% mummy. Based on the way these Coronet shorts usually work, we believe she was supposed to be only thirty-two years old.
David has trouble following instructions. Namely, the instruction "For the love of god, do not appear in a Coronet educational short." Fortunately, some animated creatures are here to help him learn, not only to follow instructions, but also how to push the definition of the term "animated" right up to its legal limit. There's a friendly owl, three depressed elephants, and a turtle. There's always a turtle.
Please join Mike, Kevin, and Bill for what we believe is the 3,204th Coronet short they've riffed, Beginning Responsibility: Learning to Follow Instructions!
Written By
Mike Nelson, Sean Thomason, Conor Lastowka
Contributing Writers
Zachary Schatzer, Brian Boone
Digital HD Video file formats
Legacy devices (44.69 MB)
All digital products you purchase from RiffTrax.com are DRM-free, can be played across a large variety of devices, and are yours to keep ... forever! Even if you have a hard drive meltdown, you can always log back into the site and re-download all of your previous purchases.
For our Download and Stream products, you can stream the product to your computer or to your TV via Chromecast, or download to a device that can play the MP4 file format. For more information on our video formats, please see this KB article.
Just the Jokes are simply MP3 files which are DRM free and can be enjoyed on any device that can play this common audio format.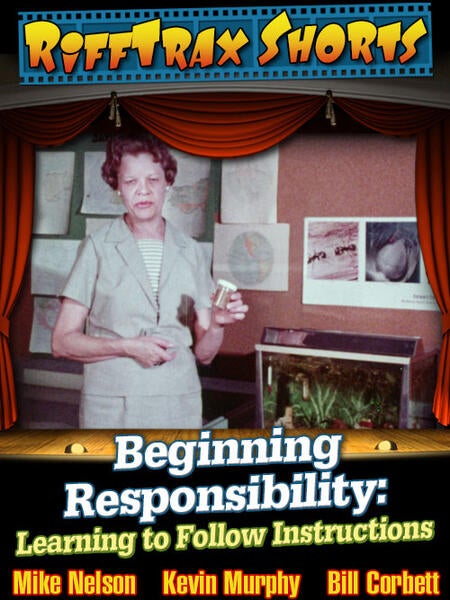 Riffed By