Basic Job Skills: Dealing With Customers
Please choose a format above.
Your Basic Job Skills, or more accurately, your lack thereof, are why you are no longer employed at Long John Silver's. Yes, we know you've been telling people it's because your manager, Navid, was a jerk. But really, how was he supposed to react when he caught you and Darrell in the walk-in trying to see how many hush puppies you could fit up your nose?*
In Basic Job Skills: Dealing with Customers, you'll learn how to handle the biggest thorn in any menial employee's side: the customer. Whining, complaining, yelling, bleeding all over the floor because the Cabbage Patch Doll you sold them came alive in the middle of the night and tried to eat their hair, customers are the worst. Unfortunately, a fact of business in the modern era is that you need customers to survive (although that Pole Dancing Fitness Class / Do It Yourself Dog Wash place by us has stayed open for like three years and we've never seen a single person in there.)
In this short, you'll examine three different jobs, and how they deal with customers. Mostly it's by passing the buck and acting like they are too busy to help out with an assigned task. If you're reading this at work, you are likely already familiar with these tactics. But it also touches on advanced methods, such as the dog trainer who didn't think she dealt with customers, until she realized that she does.**
Mike, Kevin and Bill pry the hush puppies out of their noses and team up to riff Basic Job Skills: Dealing With Customers.
*Five. You surprised even yourself that fateful day.
**Yep.
Digital Video file formats
Legacy devices (43.16 MB)
Commentary (mp3) (7.35 MB)
Source audio (mp3) (9.46 MB)
All digital products you purchase from RiffTrax.com are DRM-free, can be played across a large variety of devices, and are yours to keep ... forever! Even if you have a hard drive meltdown, you can always log back into the site and re-download all of your previous purchases.
For our Download and Stream products, you can stream the product to your computer or to your TV via Chromecast, or download to a device that can play the MP4 file format. For more information on our video formats, please see this KB article.
Just the Jokes are simply MP3 files which are DRM free and can be enjoyed on any device that can play this common audio format.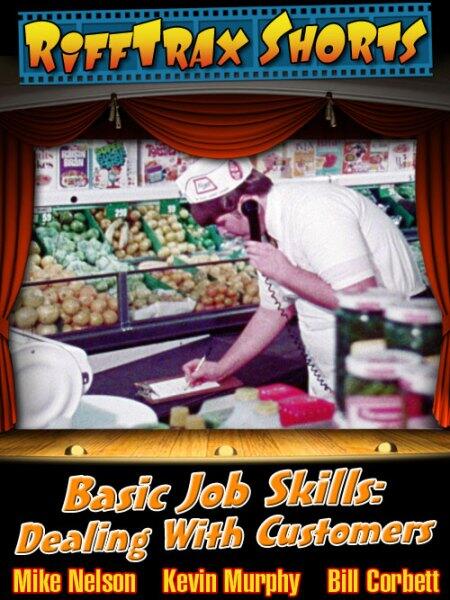 Riffed By