Back to School with Joan Miller
Please choose a format above.
Yes, it's that's time again—time to go back to school. And when it's time to choose with whom you'd like to go, the options are nearly limitless: your uncle Barney, Richard Simmons, that guy who sits in front of you at church and occasionally cleans his ears with his keys, Pruane2, Jewel, or possibly one of the Baldwins. Well, the idea that you should return to school accompanied by Joan Miller is given a fair and compelling hearing in the colorful short Back to School with Joan Miller. Yes, Joan Miller, designer extraordinaire, creator of dresses and suits that span an extraordinary range from conservative, plaid two-piece suits, to conservative plaid two-piece suits complemented by a hat. And BtSwJM offers not just two or three examples of her work, but rather a seemingly endless march of them, by the hundreds they come, one after another, modeled by strange-eyed shapeless women, driven relentlessly on by the sting of Joan Miller's whip.
Take notes, because there will be a test as Mike, Kevin and Bill go Back to School with Joan Miller.
Digital Video file formats
Legacy devices (82.65 MB)
All digital products you purchase from RiffTrax.com are DRM-free, can be played across a large variety of devices, and are yours to keep ... forever! Even if you have a hard drive meltdown, you can always log back into the site and re-download all of your previous purchases.
For our Download and Stream products, you can stream the product to your computer or to your TV via Chromecast, or download to a device that can play the MP4 file format. For more information on our video formats, please see this KB article.
Just the Jokes are simply MP3 files which are DRM free and can be enjoyed on any device that can play this common audio format.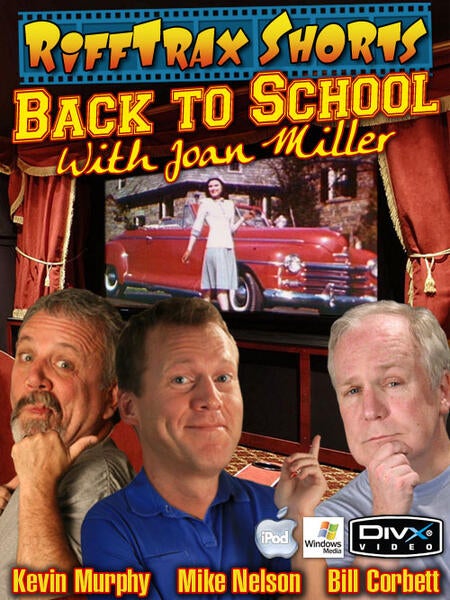 Riffed By