Astro-Zombies
Something you should know:
Contains moments of Astro-Toplessness
Please choose a format above.
Dead bodies are disappearing and being reanimated as horrible undead ghouls! Who could be responsible? The undercover Air Force investigator? The burlesque dancer? The local mad scientist who has sworn revenge on a society that has forsaken him and even has his own personal Igor? Uh, probably the last one. Why was this even a question?
Reuniting Tom "The Kid" Pace with his Girl in Gold Boots director Ted V. Mikels, Astro-Zombies are neither zombies nor the dog from The Jetsons. The film also stars John Carradine, who aged approximately 92 years in the 28 years between The Grapes of Wrath and this movie. Astro-Zombies is the type of schlockfest that will have you gasping "Wait, how long has this lab scene been going on? They just showed the assistant turning that dial. Wait, now they're showing it again??"
Note: This RiffTrax is identical to the commentary on the recent DVD/Blu-ray release.
Senior writers:
Conor Lastowka
Sean Thomason
Contributing writers: Mike Schuster, Molly Hodgdon, and Jason Miller
Digital Video file formats
Legacy devices (362.43 MB)
Burnable DVD Image (4.03 GB)
Digital HD Video file formats
Legacy devices (362.43 MB)
Burnable DVD Image (4.03 GB)
All digital products you purchase from RiffTrax.com are DRM-free, can be played across a large variety of devices, and are yours to keep ... forever! Even if you have a hard drive meltdown, you can always log back into the site and re-download all of your previous purchases.
For our Download and Stream products, you can stream the product to your computer or to your TV via Chromecast, or download to a device that can play the MP4 file format. For more information on our video formats, please see this KB article.
Just the Jokes are simply MP3 files which are DRM free and can be enjoyed on any device that can play this common audio format.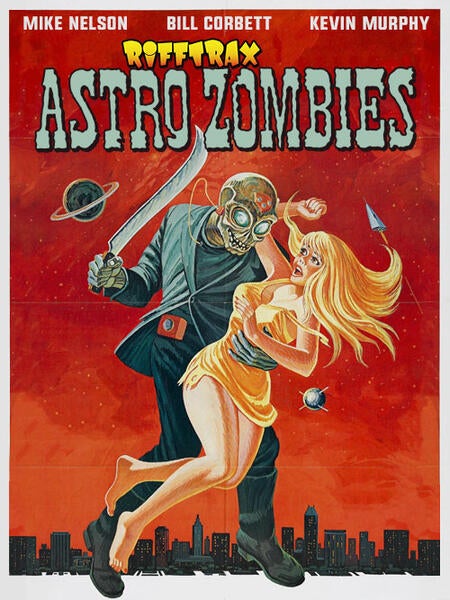 Riffed By