An Airplane Trip by Jet
Please choose a format above.
Sure, we've all taken Airplane Trips… Airplane Trips By Car, Airplane Trips By Foot, Airplane Trips By Your Nephew's Razor Scooter That You Borrowed And Accidentally Broke. Now, brace yourself for the newest kind of Airplane Trip of all, An Airplane Trip By Jet! 
The story follows Sue and Bob, two kids dropped off at the airport by their grandparents to fly on this insane new technology all by themselves! Except they won't be alone, they're bringing their extremely nervous dog. But it's the past, so the dog doesn't ride in the cabin with them, she gets shoved into a metal cage for a safe and comfortable ride in the belly of the plane. Seeya on the other side, pooch! Maybe!
It's a fascinating glimpse into a time when air travel featured comfortable waiting rooms, friendly staff, and seats so big you could actually sit in them. Imagine! All these wonders and more await you in the friendly skies. Join Mike, Kevin and Bridget for An Airplane Trip By Jet!
Written by: Mike Nelson, Conor Lastowka, and Sean Thomason
Digital HD Video file formats
Legacy devices (42.43 MB)
All digital products you purchase from RiffTrax.com are DRM-free, can be played across a large variety of devices, and are yours to keep ... forever! Even if you have a hard drive meltdown, you can always log back into the site and re-download all of your previous purchases.
For our Download and Stream products, you can stream the product to your computer or to your TV via Chromecast, or download to a device that can play the MP4 file format. For more information on our video formats, please see this KB article.
Just the Jokes are simply MP3 files which are DRM free and can be enjoyed on any device that can play this common audio format.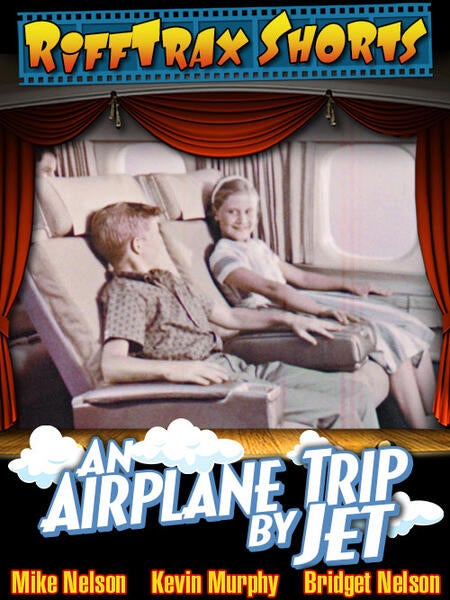 Riffed By