A Circus Wakes Up
Please choose a format above.
Contrary to what many of you are thinking, A Circus Wakes Up is NOT a wrenching adaptation of a short story by Philip Roth that recounts the heartbreaking tale of Bernard Circus, a Classics professor at Columbia, who is forced to confront his shattered marriage, his failure as a father, and a decidedly lackluster academic career. No, it is in fact a rather bizarre little behind-the-scenes short that very quickly confirms what we've always suspected: the dizzying revulsion we all feel when confronted by a circus is entirely—ENTIRELY—justified. The inhuman stunts, the macabre animal acts are, in fact, performed by exactly the type of twisted outcasts you cross the street to avoid (of course your choice gets tough when that guy from Radio Shack is on the other side…) And if you think you can get through this without being very, very disturbed by a clown, then you need to seriously reset your expectations vis-à-vis being very, very disturbed by a clown.
Mike, Kevin and Bill don their shiniest top hats, their most resplendent red cutaway jackets, and their tightest bun-hugging jodhpurs and say, "Oh, we're riffing A Circus Wakes Up today? What an amazing coincidence."
Digital Video file formats
All digital products you purchase from RiffTrax.com are DRM-free, can be played across a large variety of devices, and are yours to keep ... forever! Even if you have a hard drive meltdown, you can always log back into the site and re-download all of your previous purchases.
For our Download and Stream products, you can stream the product to your computer or to your TV via Chromecast, or download to a device that can play the MP4 file format. For more information on our video formats, please see this KB article.
Just the Jokes are simply MP3 files which are DRM free and can be enjoyed on any device that can play this common audio format.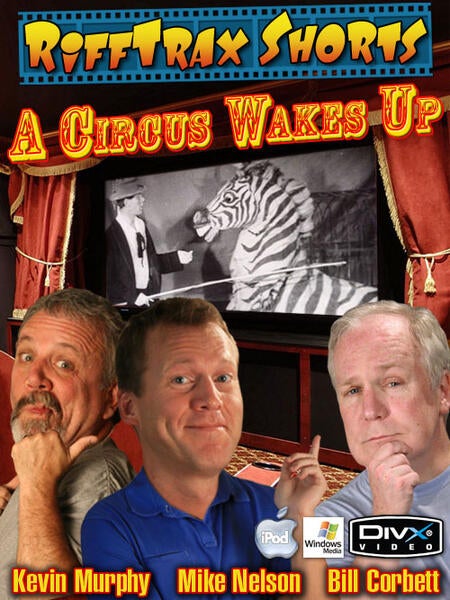 Riffed By